We have covered a wide range of stats about Latin America on our blog. Last month we discussed a prosperity index and we even posted about how to use stats when researching export markets on LinkedIn. This month we are also discussing infrastructure here. What stats you use will depend on what's relevant to you and what questions you want answered.
Internet speed might come up as a variable that you need exploring. Either because you are planning on setting up operations here, an office, or because your business is highly dependent on your local customers or partners having fast and reliable internet access.
And, as always, Latin America shows quite a range of results. And guess who are top of the list? Yes, the same two countries that also show off in other rankings such as prosperity, democracy, press freedom, GDP per capita and so on: Uruguay and Chile. Venezuela does worse than the rest of the neighbourhood, something that hardly shocks us as a Latin Americans.
Interestingly, in many Central American countries, mobile internet speed is actually faster than fixed broadband. Worth noting.
So here's the ranking (December 2019):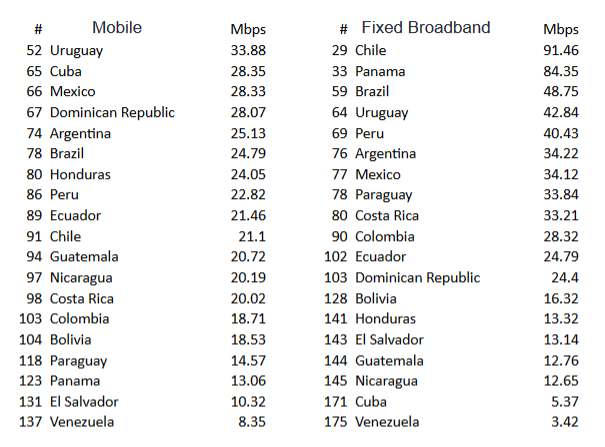 Source: https://www.speedtest.net/global-index
Some random comments:
I lived 13 years in the UK, 6 of them in North Yorkshire, and I know that internet speed stats that apply to Central London don't always apply to the rest of the country. The same happens here: fast and reliable internet access is the norm in Montevideo, but when I travelled last September 60km East to work remotely for a few days, it was a completely different story.

You might want to explore the difference between fixed broadband and mobile (it's not the same if you want to set up a call centre to provide back office services to your Latin American customers than if you want to make sure your app works nice and fast). Chile does rather well in broadband but doesn't impress us much regarding mobile speed, for example.

FYI, the UK ranked 48th (fixed broadband) and 45th (mobile) in the same month
Interesting, right?
If you would like to discuss doing business in Latin America, drop us a line. You can also subscribe to our newsletter or follow Gaby on Twitter!