Nowadays it's not just where your food comes from, but if you can prove it. Latin America has long enjoyed a distinguished reputation for its food—in particular its meat and grains—and now, thanks to a new partnership between Oritain and Sunny Sky Solutions, it can add proof of origin, too.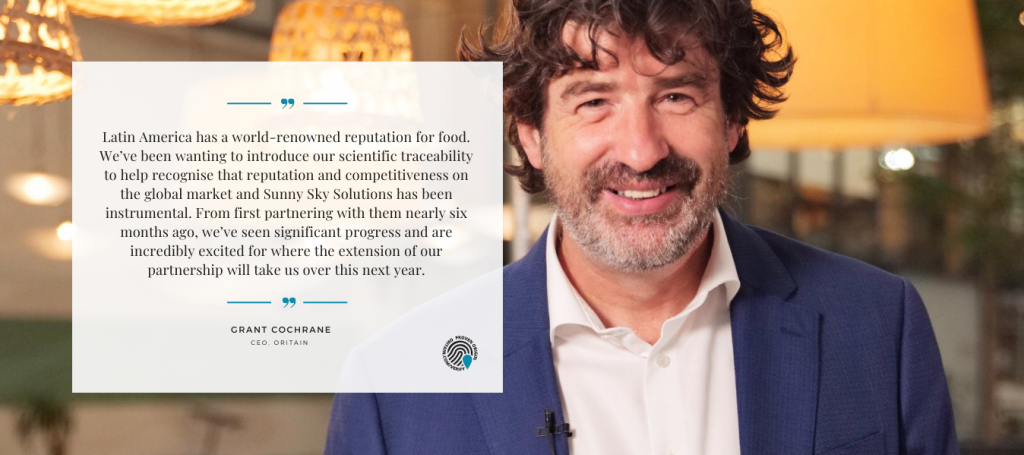 The two companies are already in talks with several clients within Uruguay across key sectors, with an initial focus on red meat and dairy. Sunny Sky Solutions bring over 10-years of experience in helping companies work in Latin America and has already helped Oritain engage with some of Uruguay's best brands.
But business isn't one way; Oritain's scientific traceability is highly sought after across the fashion, food and pharmaceutical sectors, helping brands to verify the origin of their products and raw materials using forensic science and statistics.
The move to traceable and transparent supply chains is nothing new, but has hitherto relied on technology that is itself susceptible to fraud. Anything that exists external to raw materials or products—such as packaging, bar / serial codes, and data— can be subject to tampering or fraud.
Oritain's technology not only analyses the actual product or raw material to detect any adulteration, it can also work alongside existing traceability solutions. Working with Mother Nature, Oritain analyses the elements that materials absorb from their environment. Everything that is grown, reared, or made, absorbs a unique ratio of these elements. Some environments are naturally high in elements, some are low. Some have lots of one type of nutrient and not so much of others and vice versa. These differences are what Oritain measures; using world leading forensic science and statistical models to do so and verify their origin.
Such a solution is a welcome addition as new global regulations—especially in more developed markets like the EU—look for origin and more robust forms of proof before allowing brands to import and trade.
Proof of origin also helps brands to differentiate themselves from competitors in-market. In a race to the bottom, many brands have been forced to commoditise their products and compete on volume rather than price or quality. Now, brands can distinguish their superior products and use Oritain's scientific traceability to help them escape the commodity trap.
Oritain has already had success in this area, working with the largest red meat exporter in NZ, Silver Fern Farms, as well as Australia's and Wales' meat marketing bodies, MLA and HCC Welsh Meat. But their expertise isn't limited to meat, or even countries. Oritain works with all manner of food products from dairy to horticulture and can verify origin all the way back to either region or even field or batch of origin.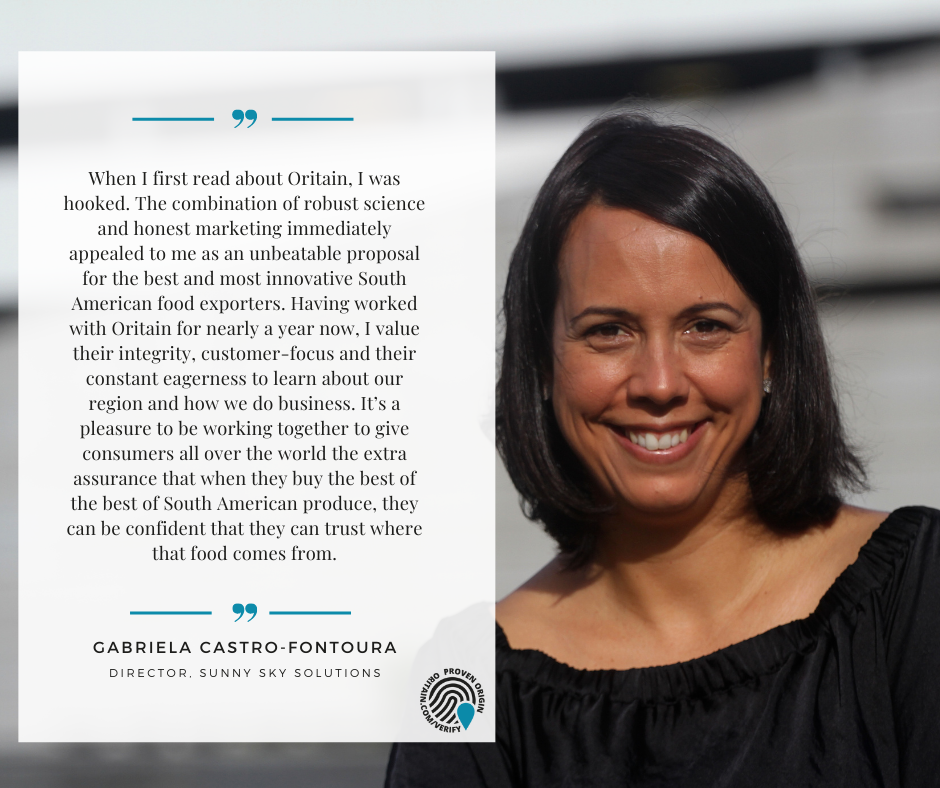 About Sunny Sky Solutions
Sunny Sky Solutions is a market access and development consultancy founded by Uruguay-born, UK-trained economist Gabriela Castro-Fontoura. The company supports clients mainly from the UK, New Zealand, Ireland and the US, at different stages of expanding into Latin America, across a wide range of industries but with a particular focus on agrifood. The services it provides include market research, lead generation, partner recruitment, marketing support, trade visits, and sales management.
About Oritain
Oritain is a world leader in using forensic science to trace the origin of products. It works with Mother Nature and doesn't rely on barcodes, packaging or other tracer systems. Everything that is grown, reared, or made, is a product of its environment, absorbing a unique ratio of elements and nutrients depending on where in the world it comes from. This is what Oritain analyses, using a unique combination of forensic science and statistics to accurately verify the origin of products.
Traceability like no other We've harnessed the power of science to provide businesses with a traceability solution unlike anything else.Rather than using packaging or labels like most traceability systems,we scientifically test the product itself, to determine where it comes from.