If you have done or intend to do business with Latin America, you will know that business in the region is "slow". So I wanted to dig a little deeper for our readers and work out how "slow" is "slow" with a few real-life examples and some valuable snippets of information.
The reasons why business is slow in the region is something we have discussed before in our blog. A lot of this is due to our mind-boggling inefficient bureaucracy, some of it has to do with the weight of the public sector in business life, some has to do with the fact that business is personal and takes time.
Also, as we have discussed, the concept of time is different in Latin America ("polychronic", apparently). This is why it is even more important to ask exactly how long things actually take (don't trust most of the timescales you see online!), and that's just what we've done.
We asked Alex Holmes, a Chilean English-Spanish (and Japanese) translator based in Santiago. He says that in Chile it is very quick to open a business (www.tuempresaenundia.cl). Sounds good? "The problem is, that for that newly-created business to actually operate, you need to register with the tax office or Servicio de Impuestos Internos, SII, and that can take months, because you have to gather all sorts of paperwork and await an inspection for the tax office to verify your address. That took me 6 months a while ago, the inspectors were supposed to turn up but never did and marked "no-one at this address" even though I was there waiting the whole time. Of course, that happens more often in the most deprived areas – in the richer areas, the inspectors turn up within 48 hours or less."
Alex adds "in this country, services and bureaucracy vary depending on the level of income of the area you work/live in – first-class services for Las Condes, but the real Latin America in La Pintana, and worse even outside of Santiago"
I also asked my Argentina-based colleague John Gallagher, who specialises in duty free retail. John explains: "To get a new product like whisky, gin or beer listed in a duty free shop on any of Latin Americas land borders can take anything from 3 or 4 months to more than a year. Repeat orders will depend almost totally on product rotation. To get similar products placed with distributors or retailers in the domestic markets of Latin America may take even longer. Even if the purchase decision is made quickly, bureaucratic problems may make the whole process take longer. Many drinks, alcoholic or otherwise, or foodstuffs will require some sort of health or product registration and this can take anything from 3 to 12 months. Paraguay, once a relatively free market to export to, has recently introduced new legislation for drinks and other products and the registration process can take around six months. In Argentina, health registration is taking anything from 4 to 8 months – a lot can depend on how your lawyer or the lawyer of your potential importer understands how the system works."
I am with John on this one, I have seen food and drink registrations take 3 months in Chile, 6-8 months in Uruguay, and 12-18 months in Brazil, to give you a rough idea. Add a few months to that if you are looking into pharmaceuticals or other highly-regulated products. Here in Uruguay, for example, if you just need to register a food product with the council in Montevideo, that can take 3-6 months, but if you need to register those products with the ministry of health, that can take up to 9 months. That is my personal experience, but I also asked a specialist who said that "for cosmetics registrations, you are looking at 6-12 weeks, for medicines you are looking at 3-18 months – that is assuming that the company has all the paperwork and that it is all up-to-date and that the company itself is registered to handle those products, otherwise the timescales could be much longer".
Uruguay-based architect Gabriela Pallares adds that a construction permit can take up to a year (although work can start before the permit is granted, something incomprehensible for a lot of foreign businesses!) and that a fire service inspection can easily take 1-2 years. Food entrepreneur Victoria Mignone, also from Uruguay, tells us that although things are improving, you could wait 2-3 years for a ministry of health inspection for a manufacturing plant in certain parts of the country. My husband tried to validate his UK degree in Uruguay and desisted after two years.
On the other side, freight expert Rodolfo Faccini from Transcargo tells us that customs in Uruguay work rather well and that they manage to make an importation within 24 hours. Our contacts in Brazil and Argentina would love to have such speedy imports!
We work in mining, construction and energy often. Recently, while researching the Peruvian market for a British manufacturing company, we came across this recommendation from BBVA Research (November 2017): "Set standarized timeframes for reviewing and approving documents submitted by mining companies" – again, a constant complaint from investors is bureaucracy, particularly the lack of clear timescales. We had a similar issue with a British manufacturer in Colombia, and the lack of clear procedures and timescales meant that we had to pull out of the Colombian market altogether: the risks were too high and the resources needed were hard to assess. To give you an idea of timescales, we worked hard for three years trying to understand certain regulations and certifications needed in Colombia, and we didn't advance. We consulted another British manufacturer in the same sector in Colombia, and they said that it took them 9 months to gain that certification, with a full-time paid employee to deal with it.
The Inter-American Development Bank (IADB) recently published a study on "trámites" or "paperwork". The graph below illustrates the number of hours it takes, on average, to complete a "trámite" across Latin America. As you can see, and as we always stress, variations are huge across the region: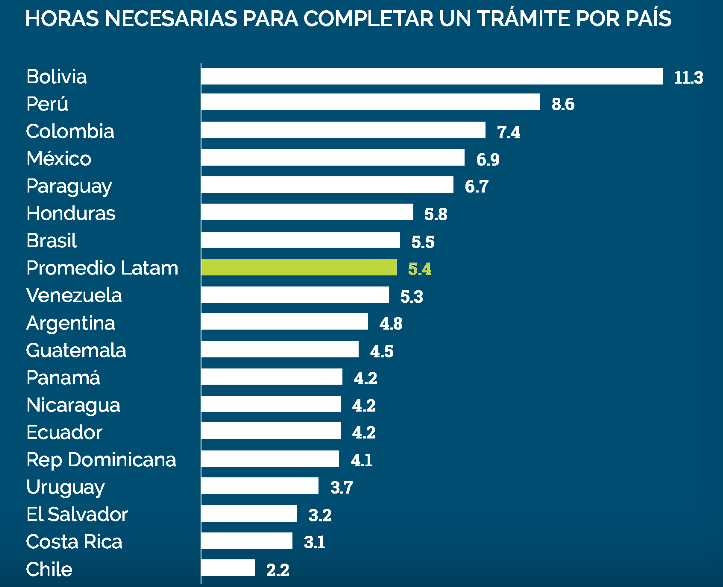 The IADB study illustrates the example of Domitila Murillo, a 70 year-old Bolivian for whom renovating her ID card (necessary for almost every aspect of your daily life in the region) took 11 months, visiting 3 cities and travelling 900km. That won't be your case personally but your business could face similar hurdles, depending on the sector, set-up, and country.
So what can you do about this all? Three quick tips for you – this is often what sets successful business in Latin America apart:
Assemble a trusted team of local experts including notary publics, lawyers, accountants and regulatory experts. You need to know that they will be pushing hard to get your work completed and you will need to trust that any delays couldn't really be foreseen and that they were really outside their control. Trust and communication are key.
Try to get an understanding of timescales from the start and ask lots of questions. When people say things "won't take long" they could mean months, when they say "it can take a while", they mean it, so try to get at least some ranges (6-18 months is valid, for example, you will know it won't take 3 days and it won't take 3 years either), but don't expect precise timescales.
Be patient – it's marathon and sometimes persistence is all that it takes to beat your competitors in the region, often above price and technical considerations!
So how slow has "slow" been for you in Latin America? We'd love to hear some examples! And if you have any questions about "how long" things will take, give us a shout!