Despite the COVID-19 pandemic, the world still goes round and South America keeps demanding products and services from all over the world. We recently discussed some of the things that consumers and businesses are buying right now and we then focused on hygiene control. Today, let's look into agriculture, livestock and forestry and see what business opportunities there are, in the current global context, specifically in Uruguay.
Agrifood and agriculture ("agro" as we know it in this part of the world – "agrifood" doesn't always do it justice and "agriculture" if excluding livestock is not enough) is a key economic sector for the Uruguayan economy. It cannot stop. People need feeding and industry needs raw materials. Adjusting to the new reality is a challenge but if there's something "agro" has globally is resilience. Certain subsectors are still requiring machinery, supplies and knowledge, some more than ever before. Due to a range of factors, Uruguay has so far been hit less than other South American countries by the coronavirus pandemic. It is a stable country with sound policies and strong institutions, an ideal small market as well as the perfect first-step into South America, and often acts as overseas companies' hub in the region.
Forestry / Cellulose (and construction)
The largest foreign direct investment that Uruguay has ever received comes from Finnish cellulose giant UPM. The new plant, to be located in Paso de los Toros and said to generated 10,000 jobs directly and indirectly and account for a 2% of Uruguay's GDP when in operation, is currently "underway […] with the start of the works on the mill site and the associated construction projects" (UPM). The sort of work being undertaken right now by local companies, as well as the skills required, is summarised here and on the company's page. Check out this video, for example, on temporary accommodation building. Construction was one of the first sectors to go back after (voluntary) lockdown in Uruguay.
"Finnish forestry group UPM said on Friday it had signed a memorandum of understanding with the new government in Uruguay to invest in the country's road and power grid networks, as part of the company's $3 billion spending on a new pulp plant.
UPM said the deals included a $60 million investment in road infrastructure and $68 million in the electricity grid.
The Finnish firm decided last year to invest $2.7 billion in the new mill, which will boost its pulp production capacity by over 50%, and spend a further $350 million on supporting infrastructure." (Reuters, 15th May 2020) (you can also read more on the MOU here, in Spanish).
In the meantime, the first plant of UPM is operational as is the Montes del Plata plant (founded in 2009 by Arauco from Chile and Stora Enso from Sweden/Finland). We had an enquiry from them in the midst of the crisis (for a British client that had already supplied them). Life goes on. There are still opportunities to sell to the forestry producers as well as the industrial plants here, as in the construction associated with them.
Livestock
In Uruguay, the current pandemic accelerated the move to more digital technology. Livestock auctions were already popular before the pandemic, particularly after foot-and-mouth about 20 years ago, and are now more commonplace than ever before. For example, check out Pantalla Rural and its wide selection of animals available and upcoming auctions. This increases efficiency in the whole chain, given lower freight and transaction costs, and is positive from an animal welfare point of view, too, something Uruguay is proud to highlight.
We recently attended a regional webinar run by NXTP Labs with Tomas Lopes-Teixeira (Agriculture Investment Export, Innovation Lab, InterAmerican Development Bank), Maximiliano Landrein (CEO Agrofy) and Hernan Ghiglione (R&D at BASF) who also touched on these issues. As Maximiliano said, we know this is not the end of "expos" or trade shows/fairs as we know them, but there are likely to be fewer fairs with much more value from now on. Shaking hands will still be important, particularly in the sector, but you will evaluate more from now on if that trip or that fair is worthwhile. Tobías explained that investment rounds are still taking place and emphasised the potential of initiatives that bridge the gap between the world of production and the consumer world. 
There is business to be done and money spent these days in Uruguay, even if businesses are proceeding with caution. Let us give you a concrete example. This month, major agricultural company Agronegocios del Plata announced it is building 30 new pens in Caraguatá, to expand its feeding capacity to a further 5,500 animals. The installations are next to the company's storage facilities, which can handle 23,000 tons of animal feed. There are many stories like this across the country, even in such difficult and uncertain times. A recent and persistent drought, many farmers say, is more of a problem than COVID-19 today. Normality is closer, looking at numbers like slaughter and processing, auctions and market prices. Unlike other countries in the region, Uruguay has also resumed foot and mouth vaccinations.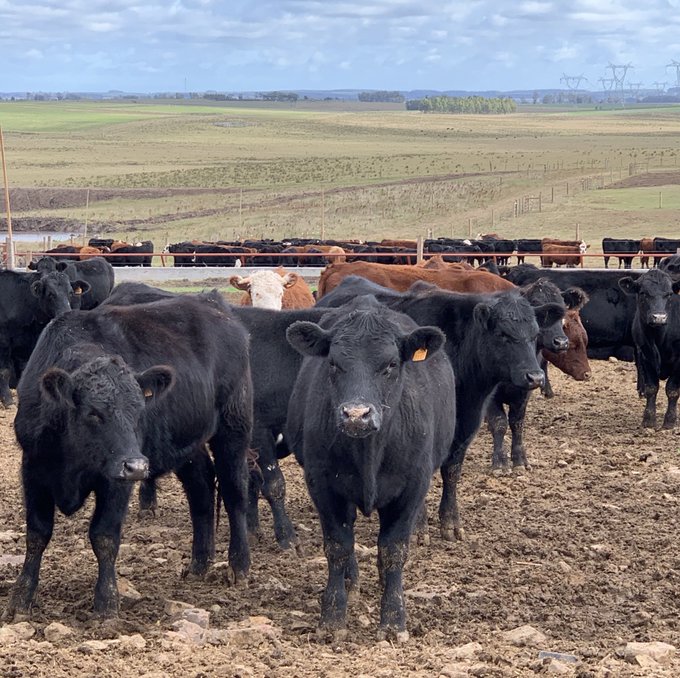 Vineyards
Another sub sector that hasn't stopped is vitiviniculture. While wine sales around the world are hit by the current crisis in the horeca segment, activity continues at production level, as the start of the  coronavirus pandemic coincided with harvesting in the Southern Cone.
In Uruguay, a record harvest was "memorable" and "historic", according to national media. We can look forward to some beautiful wines, apparently. Uruguay and South Africa bucked the trend of lower volumes this year in the Southern hemisphere, according to the Director-General of the International Organisation of Vine and Wine (OIV), Pau Roca. According to the National Wine Institute, INAVI, 93m tons of grapes were harvested, 9% more than in 2019, which will allow 68m litres of wine to be produced (El Observador).
Adjustments had to be made, of course. For example, as VinePair reports, "At Bodega Garzón in Maldonado, Uruguay, managing director Christian Wylie says the company is handling the transportation of employees to and from the winery in order to minimize outside contact."
In the midst of the pandemic, INAVI released this stunning and heart-warming video on the 2020 harvest:
To sum up…       
Basically, there are plenty of opportunities in agriculture, forestry and livestock across South America, and Uruguay in particular, if you know where to look. We haven't covered all subsectors, of course, there is a lot of potential for example in rice, fruticulture, soybean as well as medicinal cannabis, to name just a few more. Uruguay can be combined with Argentina, Southern Brazil, Paraguay or Chile when researching and working on regional markets.
We have recently started working for a niche agricultural company in Uruguay in content creation for export markets, and we are discussing areas as unique as nuts and water purification in this sector. We have experience in working with companies selling products in areas as diverse as agricultural machinery, animal nutrition, plant nutrition and plant genetics, to name a few.
We are running out of space and time, but we do promise that next time we will focus on ovines – sheep, more precisely. And if you are interested in a blog post in any particular agrifood subsectors, from any country in South America, drop us a line at and we will publish one in response so you get a bit of research on us!