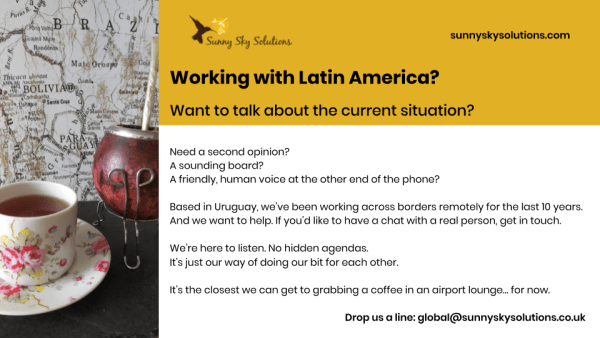 Over the last few weeks, I've been speaking to people working in international trade from countries as diverse as the UK, Uruguay, Canada, Argentina, Chile, Brazil, Ireland, the US and Peru, to name a few. From those conversations I take away the smiles, the complicity, the resilience. But let's admit it, it hasn't been easy.
What a rollercoaster of emotions these last few weeks have been.
Let me go first.
It's been hard. Trying to do the right thing by staying at home while working with two teenage boys around has been a challenge, particularly being the only child of two elderly parents living each on their own. Supporting our clients while developing new ideas, thinking about the implications of this all and launching our new website would have been demanding enough in normal circumstances for someone self-employed. Then things got worse: my dad was admitted into hospital where he spent nearly a week, so I had to combine getting used to this whole new thing with venturing into a hospital, the one place I didn't want to go anywhere near to. I was so afraid. I wrote blog posts while he slept and worked out the most intricate schedules with those closest to me. Emotions were certainly running high.
And yes, I cried. Lots. It's the best thing I did. I was trying to hold it all together. Bet you were, too.
What became clear from all those talks with people like us working internationally is that not everyone was going through the same, not at work, at least.
Some people were working for companies struggling to survive, their jobs were at risk. Despite my frustration, there wasn't much I could offer professionally. It's not my specialism and there's enough information and government help out there. I'm probably not the ideal source of support, and it took me weeks to admit it to myself. I feel for you. Hang in there.
Others knew they'd be "ok for now" and were trying to do the best they could and trying to think of an exit strategy. Others are actually doing brilliantly in terms of sales and business growth. We're supporting them in every way we can. Because jobs eventually depend on our joint effort.
However, here's the key to it all: we found that what most of us working across borders want now (and probably everyone else) is to talk. Just that. Just a call. Somebody to listen. Because we all feel confused, we have been deprived of the human interaction we adore so much (which was probably a key reason for working across countries to start with!). I'm lucky because I've been doing it for so long: working on my own remotely from home but feeling such a part of truly wonderful international teams for nearly 10 years. But if you were used to an office and you're suddenly sitting at home, it's ok to find it hard. If you see people losing their jobs and your company is doing fantastically well, it's ok to feel strange. If you miss the thrill of international business travel, it's ok. If it's all a bit too much, it's ok, too.
So we wanted to do "something" as a microbusiness. Our bit of CSR or whatever you call it. So here's what we'd like to say to you: if you identify with what I said before, send us an email and let's talk. Or message us on Twitter or on LinkedIn. Let's use Zoom, WhatsApp, Hangouts, Skype, or just a plain phone call. Maybe you want a second opinion, run a random idea past us, ask us what others are up to, or share something with us. It's enriching for us: we get to know more people – it's the airport lounge or the coffee shop conversations we miss so much.
No hidden agenda. Just you and us.
And my dad's better, by the way (thanks for asking). Now, how are you?