I was in Lima a few weeks ago visiting a British client's distributor. Apparently, I wasn't the only one. My visit coincided with the Annual Meetings of the World Bank (WB) and the International Monetary Fund (IMF). So Lima was a busy place indeed.
It was the first time in 48 years that the IMF and the WB chose Latin America for their annual meetings. And they chose Peru. Not Chile, Brazil or Colombia, but Peru. And this country of over 30 million people seems to be making the news recently. So what's so special about it?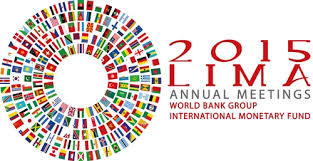 1-      Growth and stability
"Peru is one of the best performing economies in Latin America and is projected to progressively recover to an average rate of 4% between 2016 and 2017, after growing at a similar rate to that of 2014 this year, the World Bank said." (Andina, 30th September)
"Marcelo Carvalho, head of Latin America economic research at BNP Paribas, believes that among the seven major Latin American economies, Peru is the only one expected to post growth over 3% in 2016." (Andina, 16th October)
The country's macroeconomic management has been praised worldwide and subsequent recent finance minister recognised, such as the current Alonso Segura Vasi, now "Finance Minister of the Year, Latin America 2015".
With this growth come pressures to develop infrastructure, energy, oil & gas, mining, transport, tourism, security, education, healthcare, retail and more…
2-      Peru is cool
In the first eight months of 2015, the influx of foreign tourists into Peru increase 7.9% compared to the similar period last year. Foreign visitors love Machu Picchu, the most visited site in Latin America together with Rio de Janeiro (lucky me for enjoying holidays to both destinations this year!), but that's not it. Peruvian food is also attracting visitors, and a legion of talented chefs and designers is putting Peru on the map for all the right reasons.

3-      Investment
From a 17% public investment hike to a focus on energy investments, Peru is attracting investors' attention. Infrastructure investment is also in the news.
4-      Openness
Peru is not only part of the Pacific Alliance and has a free trade agreement with the US and the European Union, but it has now also joined the Trans-Pacific Partnership (TPP). A country open to trade, with the US and China as its main sources of imports.
5-      Ease of Doing Business
Colombia and Peru top the Latin American World Bank Ease of Doing Business ranking, at no. 34 and 35, respectively. This performance is better than Chile's, for example.
This is not to say that Peru is close to being a developed country. The more you get to know Lima, and the more you travel across the country, the more evident poverty, inequality and underdevelopment become.
There is also a slowdown this year, and things aren't looking bright for every sector. Mining, for example, has been hit by low commodity prices, environmental protests and political pressure. We also expect El Niño to cause some havoc later this year and in 2016, and economists are adjusting growth predictions as a result. The situation in China and the decrease in commodity prices will also impact Peru. Endemic problems such as bureaucracy and corruption can also be difficult to navigate for exporters.
However, this is not the Peru of 20 years ago and, while others obsess with recession-hit Brazil, it might be a good time to start looking at Peru for your exports. Definitely before your competitors do.