I know its name might sound slightly, well, weird, but Sodimac is not to be lauged at. A Chilean retail success story, Sodimac is part of the Falabella group, a multilatina conglomerate that is fast expanding across Latin America. I visited Sodimac here in Uruguay last weekend – and I would describe it to you as a mixture between Homebase and Ikea. Lots about home improvement, lots about design.

For Uruguay, a true revolution, in a country much used to smaller local DIY stores ("ferreterías", if you're keen on improving your Spanish double Rs). A first new store of 10,000 square metres, reports Diario El País, with 15,000 products. Sodimac will also mean 450 new jobs for Uruguay – walking around the store, the one thing that reminds you that we're talking global here is the staff, and the flags on their aprons (from Argentina to Peru and everywhere in between).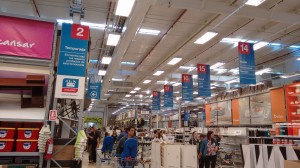 Personally, I was impressed by the layout and how easy it was to just help yourself. This is very different from the counter service you get in most DIY shops. Mind you, there's also Mr Bricolage in Uruguay, but I get frustrated by their lack of product knowledge and their appalling stocking capabilities. Sodimac also offers a tiny café as you walk in (nice touch), free paper meters (sounds familiar? I'm waiting for the tiny pencils, too) and they offer a service specifically aimed at builders, too.
The variety and quality of the products was also a nice surprise, in a country where import duties are high and where cheap Chinese products really dominate. I saw good quality brands (from chairs through to car tyres) and, guess what? even a premium British homeware brand:
Their website also made me smile, they clearly know how to localise it. If you're used to Spanish from Spain or from the rest of Latin America (with the exception of Argentina), this website will quickly get you up to speed with Uruguayan conjugations… ("vení", "encontrá"…). They clearly didn't rely on Google Translate.
Some of you will also notice the credit card logos (including some local credit cards) offering "10 cuotas sin interés", or 10 installments without interest – this is fairly common in Uruguay and the whole region.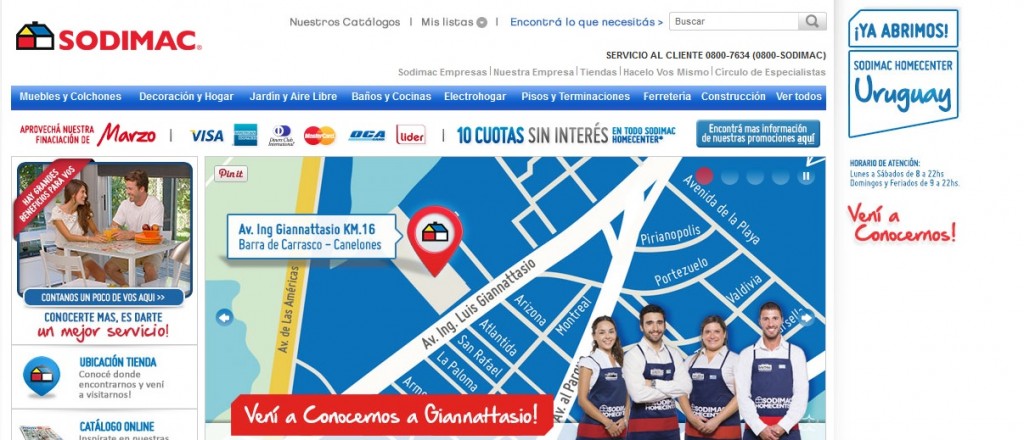 The other interesting thing to highlight is that this mega retailer was actually interested in tiny Uruguay. After its home market of Chile, the huge markets of Brazil and Argentina, and the known economic miracles of Andean economies Colombia and Peru, Uruguay was next. With just 3.4 million people, Uruguay is often preferred by retailers, mainly due to its fairly high GDP per capita, its stability and respect for the law.
But Sodimac is not in Montevideo, Uruguay's egocentric capital, something that could surprise you. It's actually in neighbouring county Canelones, which in itself if a sign of a lot of changes taking place in Uruguay: from people migrating to Canelones (and with them schools, hospitals and shops) through to the increasing accessibility of cars (you really have to drive to get to Sodimac and to get your stuff back home) and probably, too, a lot to learn about how expensive Montevideo has become.
So if you're into homeware, tooling, furniture, gardening, appliances, flooring, construction/building… here's a potential buyer for you. Remember, though, that they work with 5,000 suppliers. Can you stand out? Can Sodimac be your route to the whole of South America? Certainly one to keep an eye on.