Tienda Inglesa (which actually means "English store") is a well-known supermarket in Uruguay, and one of the things it's well-known for are its country events: we had the German event recently and now it's time for the Brits.
But before we go any further, you absolutely need to watch the TV commercial for the "Fiesta Británica". It features Lucas Sugo, a "cumbia" singer performing some sort of English version of his hit "Cinco Minutos". If nothing else, watch it for the fun value, and to spot British stereotypes and icons that you can use in your own marketing when exporting to Latin America:
British food and drink is present on the shelves of Uruguayan supermarkets, not just Tienda Inglesa, all year round. And I don't only mean Twinning's, Johnny
Walker and other Diageo brands, and Walker's Shortbread. I mean Worcestershire sauce (even though the American version has now arrived, the British-made Lea & Perrins is still preferred by many), Colman's mustard and, more recently, some Sharwood's cooking sauces.
Remember that Uruguay is a market of only 3.4 million people. Yes, it receives a considerable influx of tourists from the region and beyond, mainly in the summer (although our tourism sector has been seriously hit by the situation in Argentina), but it's November now, and this Tienda Inglesa British week was clearly targeted at the domestic market. And yes, there are many British expats/immigrants here in Uruguay, but not enough to justify the event. Marketing? I doubt it. The event is designed to sell.
… but what are they trying to sell us?
Let's walk through the aisles and find out…
you might be in for a surprise or two!
Right, it was my lucky day. Not only did I find baked beans but they were from my favourite brand! I'm stocking up, I tell you!
Also, you can see that the price for the large original tin is 60 pesos, which today is about £1.54, double the price in the UK, but you would buy them at that price, considering how tricky it is to bring them (ok, maybe not for every breakfast, but for when you're properly homesick, or in my case, having a missing-a-good-full-English kind of day).
So what next?
Jams and marmalades. And we're into interesting linguistic territory here. I overheard the lovely girl offering free samples talk of "mermelada de naranja". "Mermelada" in Spanish (at least in Uruguay) is "jam", of whichever flavour, including orange. Britain is well-known for its preserves, and the event offered a small but perfectly formed selection.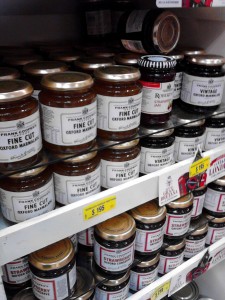 Ahhh, I hear you say, and for the right reasons. Bisto and Paxo. This one I found a bit tricky because they are both acquired tastes: gravy and stuffing. Even my English husband agreed they wouldn't be his top choices, but there we go. I have to say that the "offer" signs were overbearing to the point you could hardly see the products – the 20% off sign is from Scotiabank, a typical feature of Uruguay's retail sector: you get discounts by paying with certain credit cards on specific products and/or days of the week.
Now, lentil and quinoa chips don't remind me of Britain too much but hey… I would've preferred Tyrrells (which I spotted in Sao Paulo last year) or Seabrook Crisps (just because they're from Yorkshire). But thumbs up to Cofresh, who not only got their crisps on sale but also their cereal bars.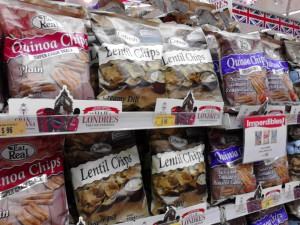 And finally, a very Lidl-like display (c'mon, Tienda Inglesa, you can do better!) for Fox Biscuits. Still no jaffa cakes, but it's a start…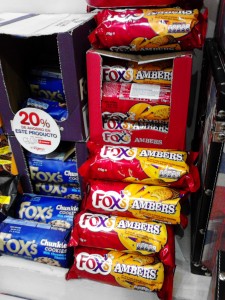 So what next? Well, on Friday I'm off to visiting one of the importer/distributors of some of these brands. I have a client or two to introduce to them…
In the meantime, let's see if any of these products come back after the event. What a test!