World Cup madness is here, there's no doubt about it. I walk into a supermarket here in Montevideo (Uruguay) and this is what I see: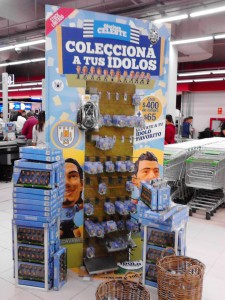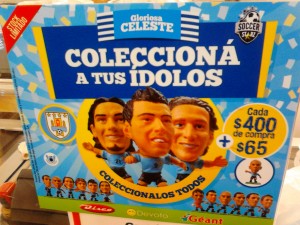 So I buy one of these friendly figurines (or two)…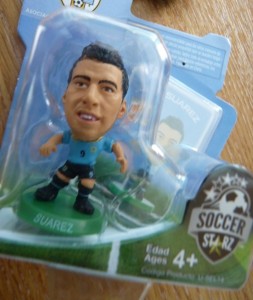 … and then look at the back and…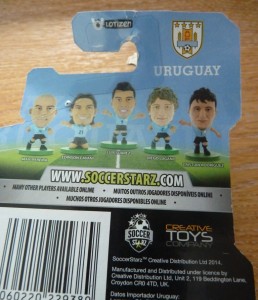 … surprise!
A British company selling collectible football figurines in Uruguay? Suarez, made in England? Oh, yes, and that's thanks to the incredibly creative people at SoccerStarz – a British export that really blew me away. First, because it was totally unexpected. Second, because it's just so clever, so original. Third, because, being me, I wondered about this company's journey to Uruguay, how it overcame key barriers (from import duties – Uruguay is part of highly-protectionist Mercosur –  to pricing and logistics) and what it makes of it all now that the products are being sold in the country that hosted FIFA's first World Cup ever (and won it twice).
I was totally delighted when Dominic Hanley, Marketing Executive at Creative Toys Company, answered my questions. So here's the SoccerStarz journey to South America…
Dominic, what an achievement, congratulations! Can you tell us when and how you started exporting to Brazil and Uruguay?
SoccerStarz have seen tremendous success since they first launched in August 2012.  In the following 2 years we have grown our distribution network to over 55 countries around the world.  Given the huge success we have been able to achieve to date we felt it only natural to open a Brazilian office to capitalise on the hype and euphoria that the World Cup creates, not to mention the passion of South American football fans.  As you can imagine, we speak to the major leagues and international federations on a regular basis and the Uruguayan federation were extremely keen to for us to develop a range of Uruguay players and team packs, largely due to the success we have had with the current European based Uruguay players.
How about other countries, like Chile or Argentina?
It's simply down to the resource we have available at present.  The SoccerStarz team are actually quite a small team (smaller than most people would think) and we've been extremely busy just preparing the national sides we mentioned above. That said, with the Copa America just around the corner in 2015, there is nothing to say we won't be launching additional South American national teams to increase the ever growing list of SoccerStarz.
What were the main obstacles you found for each market and how did you overcome them?
Being a British based company it's inevitable there will be certain obstacles to overcome when trying to establish a base in South America, however we were very fortunate that we have a great team both here in the UK, in Brazil and Uruguay.  Logistically there were many challenges, with the main one being centred around having everything in place in time for the World Cup.
What's the best thing about exporting to Brazil and Uruguay?
The passion and appetite that South American fans have for football is amazing!  Being able to work with such passionate people is tremendously rewarding and the reception our products have received has been overwhelming.  When we first announced we were making a Brazilian squad we were inundated with enquiries, including that of Dante, from Bayern Munich, who reached out to us directly in order to get involved.
How different are Brazil and Uruguay as export markets for you?
Fundamentally there are not that many differences.  Having offices based in Brazil and Uruguay certainly helps, especially in Brazil for the larger size of the operation and volumes.
What's next for SoccerStarz in their global expansion?
As football continues to grow, so will the SoccerStarz brand.  We currently produce products for 6 major European leagues and will look to expand this to the Asian, South and North American leagues as well as continuing to increase our presence with the major European clubs.
What advice would you give to British exporters, particularly to those of toys?
Ensure you develop the right toy for the right market. Nothing can sting more than launching products into markets where the need just isn't there. We're fortunate with SoccerStarz that football is a global game enjoyed by millions and millions the world over and this will continue for as long as we can imagine.
We'd like to congratulate the team at SoccerStarz and wish them all the very best in their exports.
Football mad? Our very own Sunny Sky Solutions version of the Brazil 2014 FIFA World Cup Group D (England) fixture is free to download HERE. Enjoy!