Despite its population of just 3.3million, Uruguay will punch well above its weight in 2014, with high expectations politically, economically and in the World Cup.
2014 promises to be a big year for little Uruguay
2013 has been a big year for Uruguay. Making your presence felt when sandwiched between the two emerging Latin American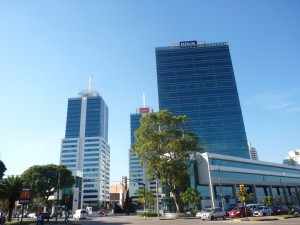 superpowers of Brazil and Argentina is no easy feat; however, with strong social and political stability, steady economic growth and a pleasant year-round climate which draws tourists in their droves, it's going to be a great year ahead for little Uruguay.
Not afraid to stand alone
Uruguay's parliament has earned much praise from the international community by voting to legalise the sale, cultivation and consumption of cannabis, making it the first country to adopt this progressive stance anywhere in the world.  The reforms (along with a new 2013 law legalising gay marriage) have prompted recognition from esteemed magazine The Economist, which chose Uruguay as its country of the year. Not everyone is happy about the reforms in Uruguay (up to two third of the population appear to be against the legalisation of cannabis) but Uruguay is definitely on the map. And not only for the political implications: there's now serious talk of cannabis-related investment and research in the country, according to the Financial Times.
A refreshing approach to politics
The man at the top in Uruguay, President José Mujica, is a breath of fresh air. The shy and unassuming president speaks with a frankness foreign to many in the West. He flies economy class, drives an old Volkswagen Beetle, lives in a humble cottage, and isn't afraid to admit his mistakes. That doesn't necessarily make him a good President, argue many Uruguayans, but again, it brings in a lot of attention to the small South American nation (which, by the way, is the size of England and Wales combined!).
A must-see travel destination
Much has been written about Uruguay's larger neighbours as tourist destinations, but 2014 is the year the immaculate beaches and vibrant party scene of Uruguay grabs some of the limelight. For the glitterati increasingly attracted to this refined country, there are plenty of glitzy hangouts, chic hotels and contemporary beach houses. For those seeking a more authentic experience, there's an abundance of bohemian driftwood charm in the less-developed seaside villages dotted along the coast.
Lethal strikers
It won't have gone unnoticed by many English football fans that England has been drawn alongside a dangerous Uruguay in group D of the 2014 World Cup. What the Uruguayan side lack in defence they more than make up for up front. Manned by the prolific Luis Suarez alongside the high cheek bones and pure skill of Edison Cavani, England's faltering side will have plenty to keep them awake at night next year.
But how can Uruguay help you?
Uruguay is a jewel in the buoyant Latin American economy. Given its favourable geographical location between the Mercosur giants of Argentina and Brazil, tax incentives for foreign companies, investment opportunities and a well educated workforce, many UK companies have already expanded their operations into Uruguay, with many more expected to follow suit in 2014.
As with any potential market, the Uruguayan economy is not without its limitations. The cost of living and inflation are high, and with a population of just 3.3 million, the internal market is relatively small. However, with so much untapped potential, Uruguay is certainly one to watch in 2014…