BIEL is a well-known trade show for the lighting, electronics and electrical sectors in Buenos Aires, Argentina. You can imagine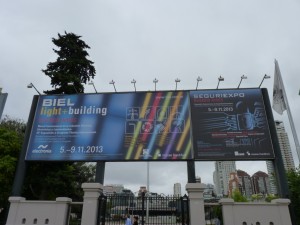 it is like three shows in one, since the sectors covered are actually quite varied. I found the 2013 edition very well organised, although nothing too flamboyant in terms of presence, and disappointing in terms of the number of companies that weren't exhibiting. It is the kind of show you attend if you pop by (if you live in or close to Buenos Aires) or one that you make a weekend of (if you come from further afield, like myself and an interesting number of Uruguayans who crossed the River Plate to attend).
I'd like to share with you some of my key findings:
–          The big players were there. Think ABB, LG, Siemens, Philips and the like.
–          There was no distinctive British presence (let alone a British stand) but there was a German "pavilion"…
–          A significant part of the lighting show was dominated by Chinese companies which, given import barriers, is very significant. This doesn't mean there aren't European competitors in Argentina, but they are probably more niche and/or design-orientated, and this show wasn't for them.
–          The scale of national manufacturing, if judged by the show, was highly impressive, and with a strong export focus.
SeguriExpo takes part at the same time and in the same place as BIEL and its focus is on electronic security. SeguriExpo claims to be a "South American" show, so possibly less international. With safety and security being key priorities across Latin America, the show is highly relevant. Here my main surprise was to see an Italian stand, clearly not taken aback by the rampant import constraints and thinking pretty global. We can learn a thing or two from them.
Buenos Aires is well-known in Latin America for the quality and scale of its trade shows. Although they will vary in focus and quality, they can add significant value to your market research and get you building a bespoke network for your business. And, of course, a strong events market can be an opportunity in itself. Did I mention that both shows were organised by Messe Frankfurt? One great service export, indeed.