I have to confess I have a weakness for this show. It is like a toy shop of huge machinery and all sorts of fascinating pieces of industrial engineering. The first thing to try to get across here, is that most of the machinery at the show was indeed MADE in Brazil. Of course, there were the large international corporations, most of German, Italian and US origin, also present, but the scale of Brazilian engineering could blow you away. British presence, however, was almost non-existent. But that's material for another post…
FISPAL breaks up into four shows:
–          FISPAL Tecnologia takes over a huge exhibition venue and it is mainly about packaging, industrial processing and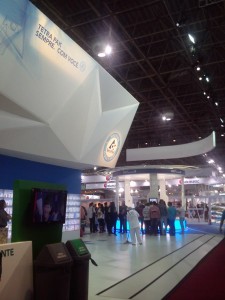 logistics for the food and drink industries. The big toys are in this show, including some amazing robots.
–          FISPAL Food Service
–          And the two smaller shows for the ice-cream sector and the cafe sector
I was pleased to chat to two British exhibitors at FISPAL Tecnologia. The first was just literally landing in South America and is in the process of appointing distributors. The second has been selling into the continent for years, have a representative based in Montevideo (Uruguay), and a second sales person based in the UK but who focuses solely in this region. They had struggled, too, to get their stand ready for the show given problems with Brazilian customs (more of this HERE). No catalogues, no business cards. But certainly two hard-working people willing to be there and at least have a presence in South America's biggest trade show for the sector.
There was one well-known British exhibitor at FISPAL Food Service. The idea was to use the show to recruit distributors and suss out the market.
Some thoughts from FISPAL to share with you:
–          Portuguese, even if a basic level of it, is a MUST if you want to trade with Brazil. Spanish can help, but you will get a lot more out of it if you speak the language.
–          A cultural understanding is also key. I managed to get a lot of information for one of the UK exhibitors just by chatting to people and not being afraid to ask for leads and contacts…
–          Brochures MUST be translated into Brazilian Portuguese. Most Brazilians are confused when given a Spanish brochure (more so than when given an English language one). It can be offensive and will start you off on the wrong foot. If you've gone all the way there, this can't slip through.
–          And, finally, Sao Paulo is one HUGE city (20 million people). Make sure when you visit that you plan your accommodation and visits carefully or you will waste a lot of time and money…
If you are work in packaging, food/drink processing or plastics, do contact us to see what we can do. We are also visiting another sector trade show in August in Buenos Aires (Envase/Alimentek) so we are building up sector knowledge and key contacts. Let's have a chat.