One of the great things about living abroad (I spent 13 great years in the UK) is that you can look at your own country with different eyes. Maybe it's the economist in me, but I cannot help observing now that I've been back in Montevideo four months, how Uruguay has changed in the last 13 years. The businesswoman in me cannot help also to spot opportunities and to try to bridge them with the country I lived so many years in.
So today, I'd like to share some of these observations with you. You might spot an opportunity yourself, or have that "maybe we should be looking at Uruguay" moment…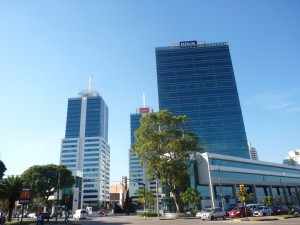 –          Outdoor clothes and accessories.
I've been impressed with the number of outdoor stores opening in Uruguay, many through franchising. Brands like Columbia and North Face are known well here by the middle class that demands them, but also regional brands, mainly from Argentina and Chile.
–          Sports clothes and accessories.
Maybe we are starting to see a trend here towards a healthier lifestyle? "Multi brand retail" coexists with single brand shops, and the quality and quantity of both has increased exponentially in the last 10 years. All the global brands are here in Montevideo, and also in premium seaside resort Punta del Este, but also niche brands and niche products. From hockey sticks to rugby balls, from running gear to hugely expensive bikes (yes, Specialized included), we have them all. Mind you, not much cricket gear yet, but watch this space!…
–          Insurance.
I was reading today that since Uruguay opened the doors to private competition in 1995, insurance has increased five-fold. Considering that a third of cars lack the basic compulsory insurance, I can see how this market will vastly increase in the next few years.
–          Postal services.
Protectionist measures from Mercosur and heavy local taxes mean that Uruguayans are getting creative with ecommerce, and there are many companies (legally established) that provide a service by which you can buy in the US and have your items delivered to you in Uruguay. See for example what Urubox are doing. Just shows that when you are looking to trade with Latin America, you have to constantly think laterally and take into account many solutions, and always listen to consumers . From the service viewpoint, the logistics sector is expanding in Uruguay, particularly insured parcels (back to insurance, then!). Now, for British standards, we still use postal services little, 25 deliveries per person per year is the average.
Those are just four observations, there are many more, as you can imagine. Uruguay is a small country for South American standards and has a population of just over 3m. However, it is a great country to do business in, for many reasons…
Other posts you might be interested in…
Thinking of Brazil? Argentina? Then think of Uruguay.
One big project for one big country.
Clarks shoes in Uruguay, step by step.