There are many reasons why UK manufacturers should be looking at Latin American export markets. Here, we briefly describe the four top reasons particularly for those working in consumer goods (we cover non-consumer goods HERE).
1-      Growing economies and higher purchasing power
Latin America has experienced a period of economic boom. Even in the midst of a global downturn, the IMF forecasts an average growth rate for Latin America of 3.6% for 2013, and higher for countries like Peru. If your traditional markets are stagnant, this is a key region to look at.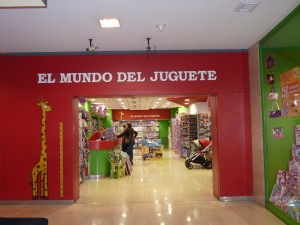 What do growing economies mean to you? First of all, more people have more money to spend on consumer goods, like yours. Latin America has now 300 million class consumers. Many of these consumers have seen their purchasing power increase over the last years and are demanding different products, more choice and higher volumes. For example, in a supermarket in Montevideo I spotted this month Worcestershire sauce, Lea & Perrins sauce, Cadbury's Milk Tray… these products would have been confined to a small gourmet shop ten years ago. I have also witnessed similar increases in other types of products, like haircare (the John Frieda FrizzEase range now available, for example). Smirnoff Ice is now here, too, as well as Clarks shoes and newcomer retailer Gap… And this only in Montevideo, a small capital city compared to the megalopolis like Sao Paulo (20 million) and Bogota (8 million).
If the new lower middle class is your target audience, then you will understand how this economic success has helped to lift millions out of poverty and into higher consumption patterns. If your target is the middle and upper middle class, then other trends will apply, such as the perceived need for differentiation from the new middle class, and the importance of brands and status. If your goods are aimed at high-income individuals, we recommend you read our blogs about the booming luxury market in Latin America.
There are also individuals keen to spend the cash they have gathered in times of prosperity – many are investing in foreign franchises, for example, as well as in new retail and distribution businesses.
2-      Macroeconomic and political stability
If your image of Latin America is of an unstable continent where it is not safe to do business, you will be surprised. Credit rating agencies like Moody's and S&P have praised the achievements of countries like Colombia and Uruguay. Yes, there are countries where it is difficult to do business in, but in general you will be welcomed by political stability and sound macroeconomic policies that receive worldwide praise. This means your potential partners (whether distributors, franchisees, licensees, etc) are likely to be in a good position to do business with you.
3-      Regard for British manufacturing
British manufacturing is highly regarded across Latin America, it equates to quality and honesty, so make the most of it! I personally find that approaching potential distributors or end clients with a British brand is always very well received – there is a curiosity element because most businesses will be approached by US, Chinese, Italian, Spanish and other manufacturers first, so there is that "we are different" element, too. And don't underestimate the positive opinion of British creativity and design.
4-      It is closer than you think
There are many barriers to trading with Latin America, which we cover and give thoughts on regularly on this blog, but overall, Latin America is closer than you think. Maybe not so much in terms of geography or time (and here it depends on whether we are talking Mexico or Chile), but culturally.
There are considerable variations across countries and even regions and cities, but there are also markets that will seem rather familiar and close to home. I personally find that, for example, British visitors to Santiago, Montevideo or Buenos Aires don't feel terribly out of place. There are more "exotic" locations, but I feel preferences, in general, are unlikely to shock you.
That also means that in terms of business partners and contacts, you are likely to deal with experienced, educated and well-travelled professionals that will make you feel comfortable during business here.
Not sure yet? If you are unsure about doing business in Latin America, more likely than not it's because you still need more information. That is what we can do for you: from detailed market intelligence to an overview of the continent, plus a bespoke market visit service for you to see for yourself, and our new trade show insider service to take you to those key events across the continent.
Going for it? We are with you all the way: from exploring these markets to finding partners, visiting them and even setting up your own operations.
Email our Director, Gabriela Castro-Fontoura, on – let's take it from there.