It is a pleasure to welcome the talented Anne Murphy, Director at Innovi Business Growth, as a guest blogger, for the last blog of 2012. Here she shares THREE questions you should think about when getting ready to export. Anne will share three more questions in our first blog of 2013 next week, so watch this space!
On your marks, Get Set… STOP!!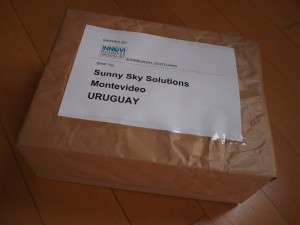 It would be madness to run a marathon without the right shoes, clothing or training and you would no doubt laugh if I suggested you try it.  So why do some companies who want to export fail to get themselves export ready?
Whilst market research is great for determining the best markets and channels for your products, it does not necessarily mean a company is ready to go international.  Exporting is complex and potentially high risk and small mistakes can have severe consequences. So, it's important that while you are busy marketing your products overseas, you are also giving consideration as to how you will handle your overseas customer orders. If you don't put processes in place in advance, you will find yourself caught up in the excitement of your first overseas order and maybe somewhere in the chain, an important document will be overlooked. The worst case scenario is that goods will be stuck in Customs, the customer will start to lose faith and will eventually cancel the order and buy from a competitor. Not how you expected your first foray into international trade to work out.
This potential nightmare can easily be avoided by being prepared and the following questions should start to focus your mind.
What do you want your overseas customers to experience when they purchase goods or services from your organisation?
I would imagine you will want it to be a highly positive experience and quite rightly so. In the global market, it is often only customer service that distinguishes one supplier from another, so make sure you provide amazing customer service.  This does not just happen by chance. From the outset the management team need to define their overseas customer service policy and make sure this is disseminated to and understood by all staff who interact with overseas clients.
Are all staff who are dealing with clients trained in export procedures?
Overseas orders are often secured by a Sales Manager but it may be the customer service team who have to manage the fine detail such as payment terms/methods and Incoterms® rules.  It is critical that the customer service team receives at least some introductory export training before the first orders arrive, and plans should definitely be in place to provide more advanced training in the near future.
Have you considered how you are going to manage international customer orders?
I would recommend that a standard operating procedure (SOP) is agreed and written up before the first order is received.  This SOP should cover the following processes:
What should be included in the order acknowledgement, e.g. estimated despatch date, backorder information, estimated lead-time for products being manufactured to order
How information about orders is communicated between the customer service team and the warehouse – particularly important if there are special packing or marking instructions
How order details are filed – as paper or electronically? Remember that they may need to be retrieved in future if there is a query from the client or HMRC
Advising the client of flight details and sending them copies of documentation
Follow up with the customer to check that he is satisfied with the goods and order process
Bio
Anne Murphy has 27 years' experience of exporting goods and services in a range of markets and sectors. As a Director of Innovi Business Growth Ltd, Anne provides hands-on support for one-off projects or a full interim export management service for companies new to exporting or for those which wish to expand their current export business. www.innovibusinessgrowth.co.uk
Anne will ask three more questions to all exporters next week. Are you ready to export? Watch this space!