A few weeks ago Clarks Shoes, one of Britain's most iconic brands (who hasn't owned a pair?) announced the launch of the brand in Uruguay. Interestingly, not through a distribution model or through their own store. As we have emphasised in our blog, Latin America requires lateral thinking, and Clarks has shown plenty of it.
Clarks is very little known in Latin America, probably just by a tiny minority of people who have travelled and lived/studied abroad (particularly in the UK, like me). As a brand, it commands very little power, for example when compared to Kickers or Vans. On top of this, it faces tough challenges of many sorts. The shoe industry in Uruguay is now minimal compared to 50 years ago, but the market is inundated with "Made in Brazil" shoes (Havaiannas and beyond), which are of good quality, nice designs and seasonally adjusted to the market. Mercosur (the trading bloc Uruguay is a member of) is highly protectionist of its shoe industry and import duties and taxation are huge obstacles.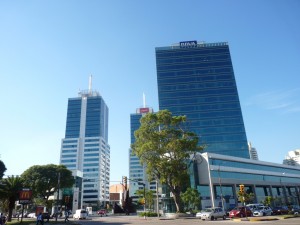 So Clarks went for the safe and wise option – an alliance with a national retailer. We are aware that there was a process of selection, with intermediaries doing the research and scoping and the initial negotiations (a service we offer, particularly from January 2013 when we relocate to Uruguay from the UK). Now Clarks shoes will have retail space in one of Uruguay's best well-known retailers. Clearly, the Clarks brand had to have enough potential for this retailer to believe in it. What we have also found is that the launch was very well guided in terms of PR, another key lesson for British brands wanting to expand into South America. The launch was featured in national newspapers, the Clarks Territory Manager for South America and Australasia was heavily involved, and we found on Facebook some pictures of a fashion show that took place at the British Embassy in Montevideo featuring, of course, Clarks shoes.
Clarks is not the first British footwear brand to land in the River Plate. As we reported earlier (click here), Gola has its own store in Buenos Aires.
"Why Uruguay?" – you might ask. I quite like the idea. A small market ideal for testing the brand. A strategically-located country between Argentina and Brazil. A country fairly easy to do business in compared to its neighbours. After all, GAP is opening in Uruguay next year its second store in South America (after Chile). Another great lateral thinking example from Clarks.
"What next"? – oh, wouldn't I love to know! I think Clarks is taking it step by step (pardon the punt) and I can assure you it is one to watch. In the meantime, I am popping down to my Clarks shops for even more of Britain's loved shoes. After all, it will be ever so trendy when I move back to Uruguay in January. Let's promote the best of British! Any excuse for new shoes, really.
You can read an interview to Mr Truelove, Territory Manager for Clarks Shoes (South America and Australasia) in El Pais of Montevideo HERE (in Spanish).