If you are the MD or Sales Director for a UK manufacturing company, no doubt you will have heard of the potential for you in Latin America. You are very likely to have discussed this as part of your "strategy" and "planning" meetings. And, very likely, you will have stumbled upon the enormity of what lies ahead.
"I've never even been to Latin America", confessed an MD I was talking to recently, "I would struggle to name all the countries, let alone understand them and understand our opportunities in each of them". This is fairly common and nothing to worry about – as long as you find ways around it. It would be impossible for me to cover all manufacturing and all countries across Latin America in just one blog post, but let me share some initial thoughts to get you started. Depending on the stage you are at, they might sound more or less obvious.
–          Latin America is not just one export market. Each country (and there are over 15 countries to explore) has its own unique import duties, tax and legal systems and so on. Each country might even have its own trade shows and professional associations relevant to your business.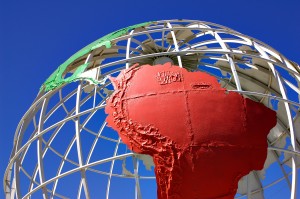 –          There are two main languages spoken in the continent, Spanish and Portuguese (Brazil only). Even at early stages, it will make sense to make contact and send information across in these languages – and by that I mean the Latin American, not the continental Europe variations. If potential clients have to make a huge effort to understand what your products are about and what the applications are, they will prefer to go with someone easier to deal with (more often than not, a US company with a fluent Spanish speaker). After all, are you making enough effort?
–          Finding a distributor, agent or representative for your products will take some time – and you will be expected to meet them at some point, preferably on location, but could be at an international trade show somewhere else, depending on your relationship and sales volumes. Business is very personal and the other parties need to feel that they know you and they can trust you. Remember that flying to Buenos Aires or to Sao Paulo from London, for example, will take about 14 hours.
–          UK manufacturing is still regarded very highly because of its quality and innovation, and UK manufacturers are respected because of their integrity and reliability – you will very likely have to focus on the value rather than the price of your products, but that is probably the case for many markets you are currently in anyway.
–          Examples speak for themselves: when sharing information, show your potential client/partner where your products are used and how – share videos and photos.
–          Do your research – as ever, this is absolutely key. But if you are going to spend a lot of money and invest a lot of time to generate potentially considerable turnover increases, wouldn't you do all you can to minimise your risks? For example, are your products compliant, do they need registrations, tests or standardisation? A product test in Argentina or Ecuador, for example, could easily take up to 6 months, are you prepared for this? What free trade agreements can you benefit from? Is the timing right or are you starting to make contact just before a general election (when you will be ignored), for example?
We will be blogging about UK manufacturing in Latin America, including success stories – and will be speaking to those involved. You can keep up-to-date by following us on twitter @UKLatinAmerica and you can subscribe to our monthly newsletter, The Hummingbird.
Sunny Sky Solutions has worked with UK manufacturing clients mainly in market research and distributor recruitment. Any questions, give us a call on 01312029121 or email