As I mentioned in my latest blog post, I had the pleasure of spending four days in Valencia attending two important international trade shows: FIMI and Cero a Cuatro. Let me share with you some anecdotes, views and reflections from these events in relation with doing business with Latin America:
–          Language barriers normally top the list of "obstacles" to exporting, particularly for British businesses (who are universally known for their general lack of language skills). However, Spanish businesses at the shows, who share a common language (albeit regional variations) with most of Latin America (except Portuguese-speaking Brazil) also find it challenging to enter Latin American markets. But why?
Lack of time – they just don't have the staff resources to pursue new markets, particularly since most of them tend to know that dealing with Latin America takes time and is not short-term.
Frustration – particularly with import duties and bureaucracy
Not knowing where to start and lack of contacts
Along those lines, problems sourcing or retaining distributors
–          Most Spanish companies I spoke to (and I spoke to around 40 of them) understand the potential of Latin American markets for their products. This is a huge difference compared to the British companies I am used to dealing with. They know they ought to give Latin America a try, at least a thought, it goes without saying (for the record, Spanish contacts know the difference between "Latin America" and "South America"…)
–          Not all Spanish managers understand Latin American markets in detail. This was a particularly surprising finding for me. I thought that companies in the sector would know a lot more about markets in Mexico as opposed to Chile or Brazil. Although they might have some idea, most of the ones who are not in the continent could strongly benefit from understanding the markets first. Having said that, at least they are aware that variations must exist, given their understanding of the continent.
–          A Portuguese company at FIMI particularly impressed me with their approach to Latin America. The MD said to me that they want to be in Brazil, they have to be in Brazil. But, given that they produce textiles, they can't compete given the import duties and other charges. Therefore, four Portuguese companies across the supply chain have joined forces and are working on a strategy to penetrate the Brazilian market by manufacturing locally and then exporting to the rest of Latin America. "It will take years, we know that" – he said – "but that's the only real way forward for us".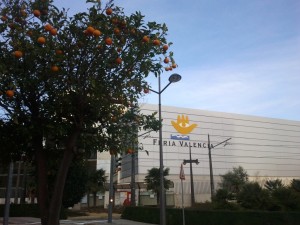 The best thing about trade shows, I find, is listening to other people. One of the most interesting conversations at FIMI for me was with some fellow Latin Americans… more to follow!
Quisiera agradecer al equipo de Feria Valencia / FIMI / Cero a Cuatro por llevar adelante proyectos tan profesionales. La hospitalidad valenciana durante mi estadía fue ejemplar – muchas gracias.