I recently attended a UKTI event in Leeds regarding opportunities for financial and professional services in Latin America. Speaking to some delegates at the event, they felt that there was a shortage of information on the actual opportunities (although one has to give credit to presenters trying to introduce their country and the specific opportunities in this sector in 15 minutes, to a very mixed audience).
Therefore, I would like to start to answer the question about what services are likely to be demanded in Latin America from overseas suppliers. Some thoughts (outside the usual legal and financial services covered at the event):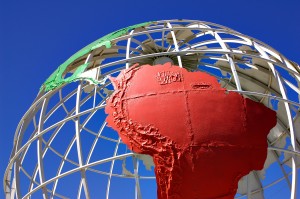 Services related to events such as the World Cup and the Olympics in Brazil – from security consultancy to architecture, from graphic design to marketing
IT services
Environmental, architectural and engineering consultancy
Education – whether language-related, software, distance learning or consultancy
PR and marketing services – for the many Latin American brands penetrating the UK and other overseas markets
Researching the opportunities published by UK Trade and Investment, I found some fascinating examples of what Latin America is explicitly demanding from the UK in terms of services. I quote below just 10 recent examples from the five countries covered at the UKTI event in Leeds:
Support to Climate Change Mitigation Strategies (region)
PPP/PFI Hospitals Programme 2010-2013 (Chile)
Concession of Ferry and Port Services (Chile)
Certification of management systems (Chile)
Institutional Support for the Criminal Justice System (Colombia)
Information Management Systems for Integrated Public Transport System (Colombia)
Renovation of Government Servers and Backup Systems (Mexico)
Publishers/E-book consultants (Argentina)
Elaboration of Environmental Control Plan For Construction of River Terminals (Brazil)
Eco Labelling Consultancy Providers (Brazil)
Need I say more? This is a very short list – and this is what UKTI has access to, imagine how big the demand must be out there!
For our next blog post, we will be interviewing one service business that has been exporting to Brazil… watch this space!