Uruguay market visit: could this small country become your big success story?
The British Embassy in Montevideo is organising a 4-day market visit for UK exporters to Uruguay in September. But why visit this rather small country, seen as quite remote, and apparently little known by UK exporters? And what can you really get out in just four days?
Let me be clear from the start: Uruguay might be a fantastic find for your company or it might just not be for you. I am not promoting my own country here, I am encouraging you to take a look and see for yourself. Uruguay is not perfect by any means, it has a small internal market (3.3 million people), it is rather far away from the UK (something I feel every time I have to travel back there, particularly if you're not in London) and it is a rather expensive country, too, at least in comparison to the region. So why am I asking you to give it a try?
First of all, Uruguay can be an ideal test market for your products/services in South America. It has a small population but a relatively high GDP per capita, and a strong middle class. Moreover, it has a natural affinity with the UK, and the "Made in Britain" brand does pay dividends here. What also makes it an ideal test market, apart from its size and the concentration of its population in the capital, Montevideo, is the stable nature of its economy and its politics, a country with high respect for the law, relatively reliable compared to its volatile neighbours (Argentina and Brazil).
Talking about neighbours, Uruguay enjoys a strategic position between Argentina and Brazil, also Mercosur (common market) members. Therefore, Uruguay can become your hub for these two huge countries, and also for countries like Paraguay and, less so, Bolivia and Chile. Many overseas companies set up regional offices in Uruguay because of its stability, and target Brazil and Argentina from there, whether selling services or goods.
What makes Uruguay even more attractive is its legislation around free trade zones, free port/airport and investment promotion areas. You'll hear more about these during the visit, and the idea is to take you to these places, where you will see for yourself the companies that trust Uruguay (think of BASF, Velcro, GSK, Diageo UPM for investment/offices, but also check out the presence of UK brands such as Brompton Bikes, Hunter Boots, Barbour and Twining's Tea for B2C and Gripple, JCB and Noblex for B2C). We've also heard that Stannah Starlifts, a client of ours, and Ella's Kitchen (who also went on one of our courses last year) are about to enter this market…
The visit organised by the Embassy coincides with ExpoPrado, the largest agricultural show but also the largest consumer show in the country. This is a great event to meet a lot of people in one place, and offers fantastic opportunities for networking and relationship-building, critical to your success in the region. If you work in agriculture, forestry, fishing, livestock and other similar sectors, this is the show for you.  Why not come and check out who's already here? Do you know what your global competitors are doing in this region? Could you compete with them? Who should you be speaking to? There's a lot happening in Uruguay (one of the largest exporters of rice and beef in the world, despite its relatively small size) in the agricultural sector that could be of interest – not in vain we have worked with British companies such as PBS International and Caltech in this market…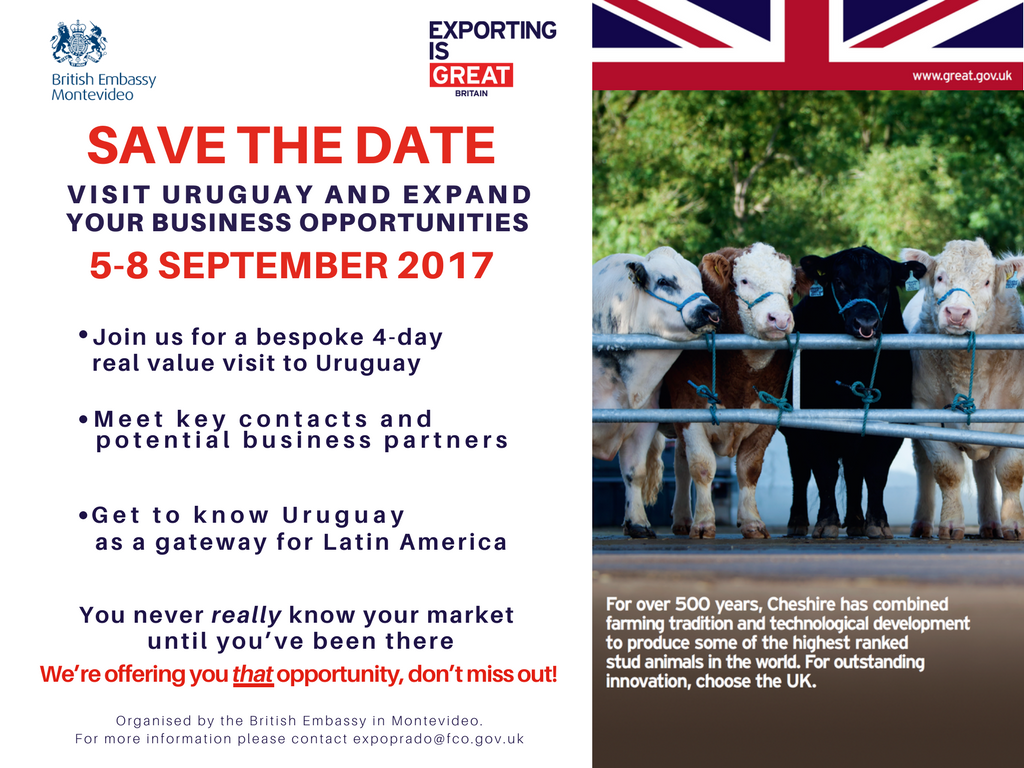 If you didn't have enough reasons to take a look at Uruguay, this mission comes with some subsidies, so taking the plunge should be a little bit less hard. You could even link this trip to visits to other countries such as Argentina, Brazil, Paraguay or Chile. If you're in agriculture, Expointer in Southern Brazil finishes just before this market visit starts.
So whether you are thinking of using Uruguay as a regional hub (with your own offices, an outsourced operation, a joint venture or even just a warehouse to serve your regional distributors) or if you are interested in this market for its own potential, these four-days could be the excuse you need to give Uruguay a serious chance of becoming your best-kept secret in South America…
(for more information, contact the Embassy directly at expoprado@fco.gov.uk or drop me a line at global@sunnyskysolutions.co.uk)