Ella's Kitchen is a popular British baby food brand, starting to spread into Uruguay.  They specialise in turning simple and natural ingredients into a delicious and nutritive baby food, focusing not only on the taste but on children's five senses; the stimulating colours, textures and names on their packaging really connects with little ones.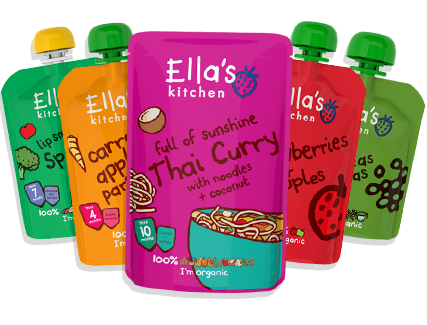 The company had begun to make inroads into Chile, when Tom Bodeker, who leads on the company's international development, came to our course in the UK back in 2016.
I recently spoke to a Uruguayan distributor who told me they're starting to work with Ella's Kitchen after they found the products in the USA and loved them. They're now sorting out registrations and paperwork, and should be selling the product in Uruguay by the end of the year.
UK food brands are generally interested in Uruguay due to the relatively high purchasing power, and the huge levels of interest shown by Uruguayan people in European brands and tastes. People here tend to be fans of many aspects of British culture in particular. We are currently working with more food and drink brands in the country, which is also a great hub for reaching the more complex markets of Argentina and Brazil, and a very useful test market in itself.
Ella's Kitchen products will be sold at supermarkets and pharmacies, but as a healthy food for toddlers, it's a very versatile product that can be sold in any convenience store. There's even potential for duty free shops to distribute Ella's Kitchen products to travellers passing through the airports and borders every day.
This brand has so many great qualities that we see it having great potential outside the capital city. When people begin to try it and start to talk about it with friends, it will only be a matter of time before its popularity spreads to the rest of the country.
From a firmly established base in Uruguay, Ella's Kitchen can probably develop into Paraguayan and Argentinian markets – and from there, perhaps right across South America. Their distributor has great plans for the brand.
We are very excited about the imminent arrival of Ella's Kitchen in Uruguay, and are looking forward to seeing more of this special and delicious British brand. We hope that one day they might consider investing in manufacturing processes in Uruguay to supply the whole region… but only time will tell!
Don't want to miss our next update on Ella's? The first pouch on a shelf here in Uruguay? If you're interested in doing business in Latin America, then sign up to our monthly newsletter!