Anuga is one of the world's largest and most important food and drink trade shows. It opens its doors on October 7th in Cologne, Germany. Many of the buyers attending will be coming from Latin America. They could be your distributors. They could visit your stand. You are probably interested in a region of 600m people and 300m middle class consumers…
…so what can you do to prepare for them?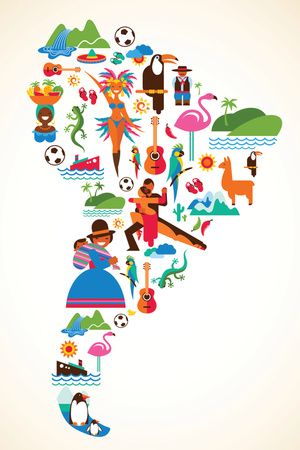 1- Look at a map
It will take your team only a few minutes at a team show preparation session (you surely have those, right?) to look at a map of Latin America and have an idea of which countries it encompasses and their different (relative) sizes.
2- Be prepared
If the region is at least on your radar, check our (free!) blog or download our ebook (worth its £3.60 on Amazon/Kindle and a great read for your flight!)
You'll find many food and drink articles in our blog and lots of pictures on our Twitter feed – so that you at least have an idea of what it's all about.
3- Spanish/Portuguese
Most importers/distributors will speak English but it might help having "something" in Spanish and/or Portuguese (or both), maybe a company presentation or the odd brochure.
Please make sure that your materials are professionally translated or it can actually fire back!
4-  Competitors
Check what your top competitors are doing in Latin America before you visit the show – do they have distributors in the region, for example?
5- Don't underestimate Latin Americans!
I see this done again and again… These are emerging markets but people here are willing to pay for premium gourmet food – just like they pay for Land Rovers, Aston Martins or luxury yachts. I've been told, believe it or not, at trade shows in Europe, that most Latin Americans live in favelas and that these "poor people" can't afford a £5 packet of crisps. That view, which is not as uncommon as you might think, is not only patronising and rude but also totally mistaken – make sure your team appreciate the potential in Latin America and don't underestimate Latin American visitors to your stand – "these people" who visit probably drive better cars and have better phones than most people in the UK!
6- Samples
Samples are great for distributors that you think have more potential and it can be easier for them to take some samples than have them posted, depending on the country, so remember to ask first.
7- Follow ups
This is the hardest part.
Latin Americans hardly ever reply to emails so you have to call and be persistent. If you thought during the show that they were genuinely interested in working with you, the fact that they don't answer your first 10 emails doesn't mean they are not interested, they just can't be bothered replying! Pick up the phone (WhatsApp is also good) and you'll get much further.
8- Keep in touch
Shows like Anuga are a great way of keeping in touch with your Latin American distributors. Have you dropped them a line to ask if they are visiting? They will appreciate catching up with you, during or before/after the show. It's important to keep in touch with your distributor to ensure you remain a priority, particularly in Latin America, where business is very personal.
We hope this post helps you prepare better for this and other shows – your RoI will be higher if you can target many regions in the world at the one show, so make the most of these tips!
Enjoyed this post? Then sign up to our newsletter!