I admit it, I'm a big fan of maps. So when I spotted these (hugely controversial) ones (thanks, Laurence!), I thought I had to share them with you.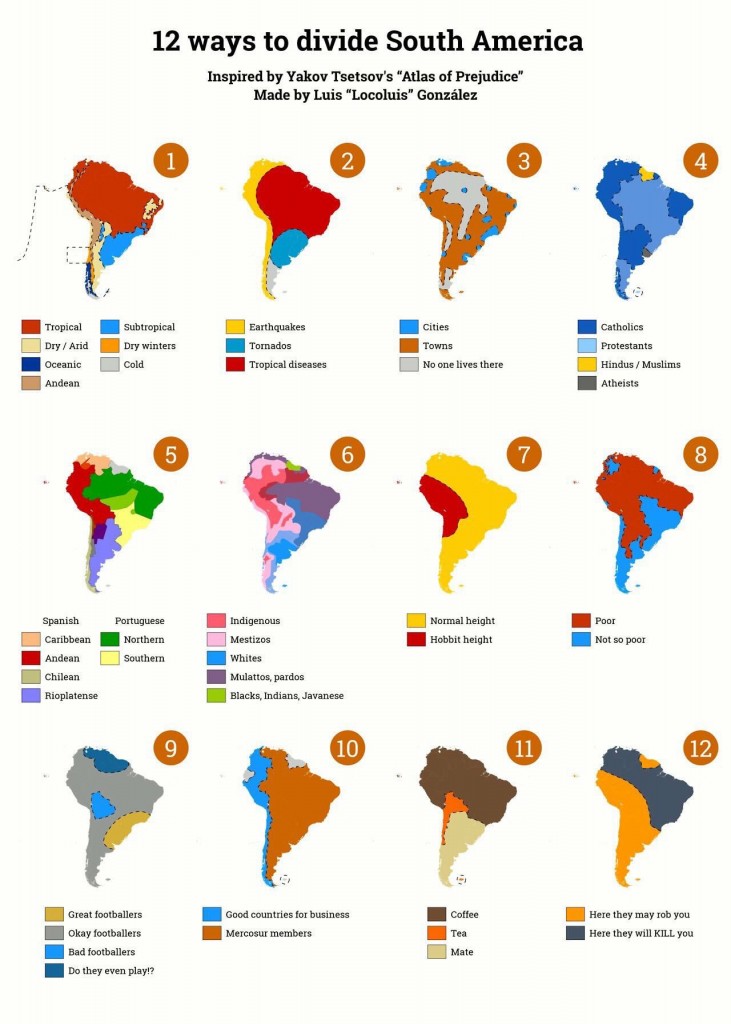 They are not 100% accurate, of course, and I don't think they were meant to be. The author ("Loco Luis") himself has clarified a few points here (the comments there are worth reading, by the way, some of them are brilliant) – but I think these maps say a lot – and British exporters could learn a thing or two here, so let's get listing:
1- South America is a vast continent and very diverse
If there is one big lesson from these maps for UK exporters, who often regard South America as a big homogenous "chunk" of the world, is that there are huge variations across this wonderful continent. From language through to geography, from crime through to religion. It's what makes me love this part of the world so much.
2- What works in a country might not work in another 
Because of weather, religion or geography, you name it. That's why we insist on understanding each market.
3- Perceptions
This map is hugely controversial because it's based on perceptions – such as the map below, from The Poke. It shows that some of us down here do have a very British sense of humour! But perceptions are important, and will impact your business in the region. The difficulty is that it takes time and experience in the region to understand them. Do you know what, in general (stereotypically speaking) Uruguayans thing of Argentineans or Peruvians think of Chileans? Would you then hire an Argentinean distributor/regional sales manager to deal with Uruguay or a Chilean one to deal with Peru? What do you need to be are of? We work on these aspects with our clients when we do market research but also during market visits, since these subtle, non-written aspects are critical when doing business across the region.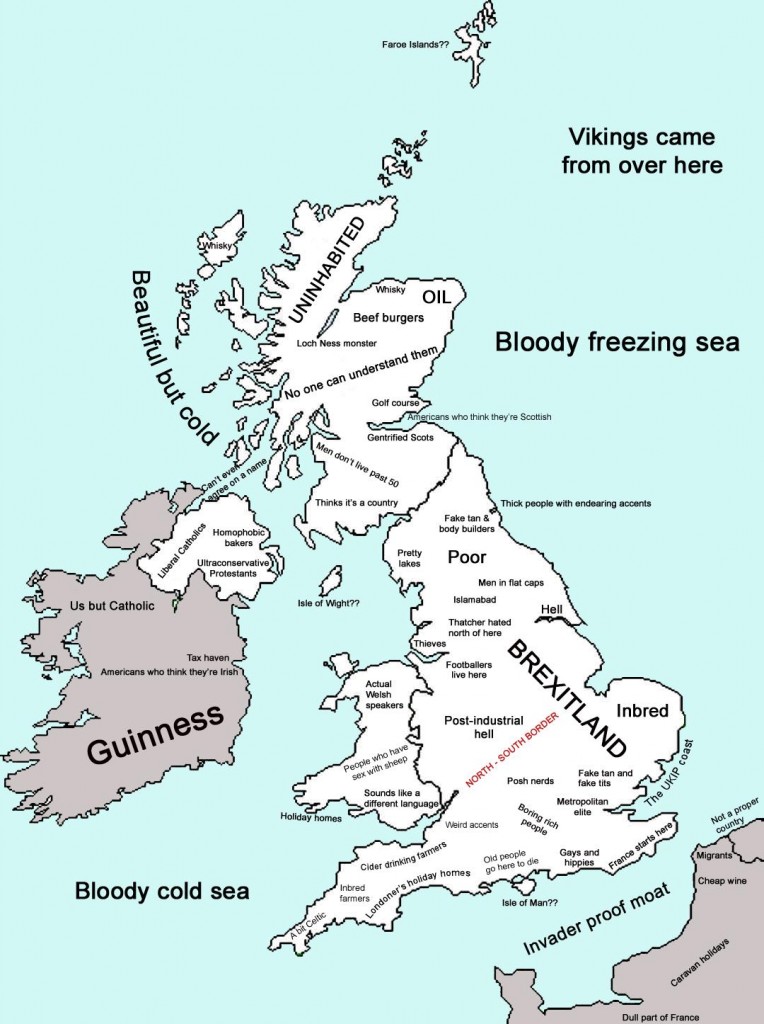 4- Practicalities – visiting South America
I have written many times about the practicalities of visiting South America, and these maps show what I always mention that you need to take into account: earthquakes, weather, crime – and how they vary across the region.
5- Check out Map No.10…
"Good" and "bad" countries for business. Made me smile. Years of studying economics, looking at figures (check out our most recent post on analysis for the region in 2018) and trying to be very politically correct when I present to a large public (check out our events for January/February 2018 in the UK) and this guy summarises it perfectly well. At least if you're thinking about the ease of doing business and particularly the ease of importing into these countries – controversial but likely to be pretty spot-on. I always say that South America is now divided, for business purposes, into the Mercosur (in orange) and the Pacific Alliance (in blue) and that the ease of doing business with Pacific countries (minus Ecuador) is considerably easier, on average, than doing business with Mercosur, a badly-operating protectionist bloc that includes Argentina and Brazil.
It is a highly controversial map and there are inaccuracies there, apart from very personal views, but it's difficult not to see the humour in it – and the facts, whether we like them or not.
What do you think of the maps? Leave us your answers below or join the conversation on Twitter!