As you might already know, we recently visited Argentina and Uruguay. Both countries have a long history of affinity to the UK. After all, it was the Brits who brought the trains, utilities and football to both River Plate countries. English schools proliferate across Buenos Aires and Montevideo, there are Scottish pipe bands on both sides of the River Plate, and it is almost impossible not to stumble across a Premiership match on TV broadcast at a local bar or pizzeria.
History has been trickier lately. The Falklands / Malvinas conflict and its current revival, with its media hype, are confusing some British exporters. That, added to Argentina's current overwhelming protectionism (manifested through import duties, non-automatic licences and a vast array of more subtle, unpredictable and often highly-questionable measures) can be a deterrent to British exporters.
Many British exporters, from clothing to food and drink, from industrial equipment to software, have asked me in the past regarding the advantages and disadvantages of placing a Union Jack on their products, particularly when targeting South American countries.
The general motif, apart from some level of patriotism and national pride, is that Britishness sells. A Union Jack tells the customer about the British origin of the product/service, and immediately enhances the value of what you are trying to sell. Why? Because British is seen as premium, means quality, tradition, honesty and respect. I have no doubt this is the case in both Argentina and Uruguay, whatever the political situation. However, it is best to do some research. For example, I personally wouldn't be too keen on a Union Jack on a product destined for the Argentinean central government (and yes, they still buy British sometimes). And I would probably use a Scottish flag for some quintessentially Scottish produce, such as whisky. I must say that the English and the Welsh flags are rarely known in these countries.
Walking through a shopping centre in Buenos Aires, I spotted the following Gola store (probably a franchise). Proudly British and clearly so (although my husband insists that the flag is not correct).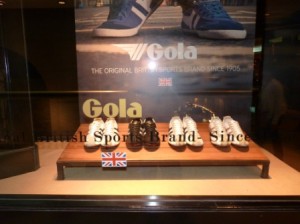 British imagery can be seen across many products sold in Argentina and Uruguay, whether manufactured locally, imported from Britain or produced elsewhere. Think of double-decker buses and London taxis, but also think Cath Kidston or Emma Bridgewater, think of Colman's mustard and Norfolk lavender – British aesthetics really please – and really sell.
So, be proud to show the origin of your products or services, whether designed or manufactured in the UK. It is definitely a plus. Make the most of Cool Britannia – and the Olympics, the Royal Wedding, the Diamond Jubilee… Be warned, though: quality tends to be associated with a higher price, so be prepared to negotiate!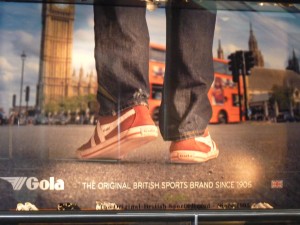 Subscribe to our monthly newsletter