You might remember that back in May we shared an opportunity from Uruguay's British Embassy, inviting UK companies to explore the Uruguayan market and find new partners?
I was invited to present at the event – so here's a report on how it went.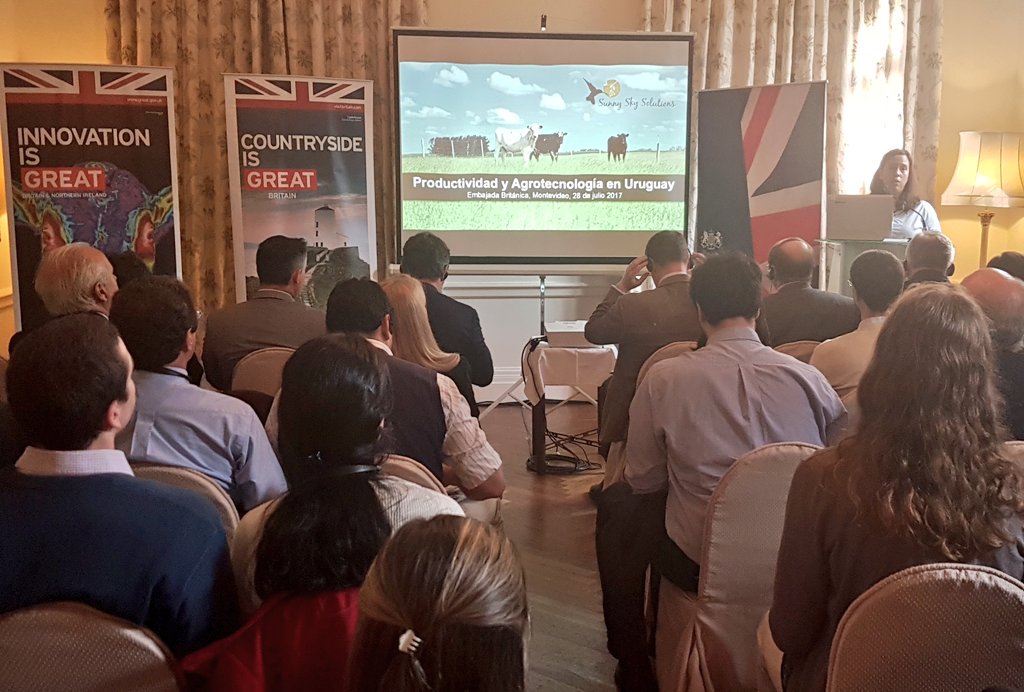 After the morning briefing, the #EncuentroAgro talk was opened by Ian Duddy, the UK's Ambassador to Uruguay. I then talked shared findings from research for the National Agricultural Research Institute on agritech and productivity; this was followed by presentations from the three UK companies.
Dave Ross, CEO of the AgriEPICentre group of companies, spoke on a range of topics, including the 'internet of agricultural things' (IoAT), and the Centre's vision, based around variance. Ross shared his view that precision agriculture will grow by 14.9% by 2022, with at least a third of that in the area of genomics. Interestingly, this is one of the areas mentioned in our report as key for Uruguay. The flow is very much bidirectional, he said – UK agritech going out to the world, and vice versa.
Stephen Kenyon, Director of Harbro, explained how the company started exporting their animal nutrition products five years ago and now export to fifteen countries.
I found the talk by William Turner of Polymateria fascinating. The company focuses on the end use of plastic in various applications including agriculture; their biodegradable additive technology, incorporated in the manufacturing process, makes plastics biodegradable, but also recyclable. The company, based at Imperial College, requires no capital investment from licensees and end clients, which makes it very attractive to me for a region where financing is expensive and difficult. They're a very young company but are already in citrus (netting), film, punnets, and rigid containers – and they're currently looking for licensing partners.
Jim Wilson, MD of Soil Essentials, explained how the company were originally farmers, but have spent the last ten years in precision agriculture. Interestingly, they are in big data, one of the key areas highlighted in our report for Uruguay; their intention is to democratise precision agriculture.
The British Embassy will host a British Pavilion at ExpoPrado, the largest agricultural show in Latin America, next month. More British companies will come to Uruguay for this event, and we expect that more will follow, as they find out the potential of Uruguay and the rest of South America. We have spotted some UK companies at previous editions of ExpoPrado, such as Gripple and Concrete Canvas. I wonder who else will follow…