Latin America: Resources
We offer you a range of complimentary, well-researched and useful materials on Latin America that exporters can use no matter what stage they are at. If you would like some bespoke research, please do not hesitate to contact us at global@sunnyskysolutions.co.uk
1. The Hummingbird – monthly e-newsletter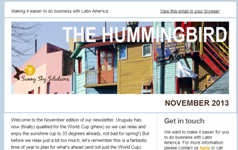 The Hummingbird brings you up-to-date news, analysis, and tips for doing business with Latin America, particularly tailored at UK businesses, no matter their size or the stage they are at in exporting to the region. Keep informed of what's really going on in the region. You can unsubscribe at any time.
Regular and searchable blog posts on everything related to doing business with Latin America. No registration required, but if you want to be notified when new posts are published, sign up to our newsletter (above) or follow us on twitter @uklatinamerica
We keep you up-to-date with what's happening in Latin America that matters to decision makers worldwide. As an exporter, you can also ask questions to us directly and we can also put you in touch with our wider network. We also take part in Twitter-based knowledge dissemination activities such as Twitter chats, with other experts from all over the world.
4. Video blogs
Short and to the point. You don't even need to have a youtube account. Our video blogs are all about doing business with Latin America.
We hope you find this information useful. To discuss more specific requirements or ask us any questions in relation to doing business with Latin America, do feel free to contact us at global@sunnyskysolutions.co.uk Thank you.
Subscribe to our monthly newsletter